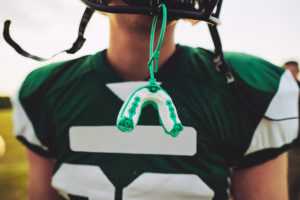 With fall right around the corner, many parents in our office are beginning to ask the common question, "Does my child need a mouth guard for sports?" If your child or teen is wearing braces, it's extremely important to protect their teeth, gums and mouth with a sport or mouth guard this upcoming season. Here's why.
What is a Mouth Guard?
A mouth guard, AKA "sports guard" is worn over the teeth like a retainer, but is made of a thicker, more dense material. The primary goal of a mouth guard is to keep the teeth and mouth safe from those who grind their teeth, or participate in contact sports wear mouth injury is common. At Jones Orthodontics, we encourage all athletes to wear a sports guard, especially if they are in braces treatment. In fact, the American Association of Orthodontists (AAO) recommends that all athletes wear a mouth guard whether the sport is contact or not. Click here to learn more. 
Sports Guards for Children and Teens With Braces
Some common examples of damage that can be done to an athlete's mouth while playing sports are:
Broken/chipped tooth

Fractured tooth roots

Teeth getting knocked out 

Jaw injury

 
Although injury is not always avoidable, a mouth guard does help reduce damage that could be costly to repair at the dentist, orthodontist, or oral surgeon's office. Not only can these repairs be costly, but the healing process can be very time extensive too. Those who wear braces are at an even higher risk for injury while playing sports because of the brackets and wires that are in the mouth. Without the use of a sports guard, they may experience deep, slow healing cuts or wounds to the inner lips and cheeks. At Jones Orthodontics, we encourage all of our braces patients who play contact sports to use a mouth guard to prevent injury to their teeth and gums. 
Where Do I Get a Mouth Guard For Sports?
At Jones Orthodontics, we want to help our patients protect their teeth at all costs! If you're a patient of ours who wears braces and needs a mouth guard for your upcoming sports season, contact our office and we'd be happy to get you one! Sports guards can also be purchased at sporting good stores, Walmart, and CVS. The guards we provide to patient's at our office are designed to protect your teeth without hindering the proper alignment of your teeth throughout orthodontic treatment.
How to Care For A Mouth Guard
It's very important to clean your sports guard regularly – similar to how you would clean your retainer! You can brush your guard with toothpaste and a toothbrush at the end of the day when it's time to complete your oral hygiene routine. However, if you're away from home and need to clean your mouth guard, a great default option is to use antimicrobial dish soap and cool water to rinse. 
Questions?
If you have any additional questions about how your child should care for their braces while participating in sports this upcoming season, do not hesitate to give our office a call at 919-493-7554.   You can also schedule a FREE exam on our website: www.jonesorthonc.com.