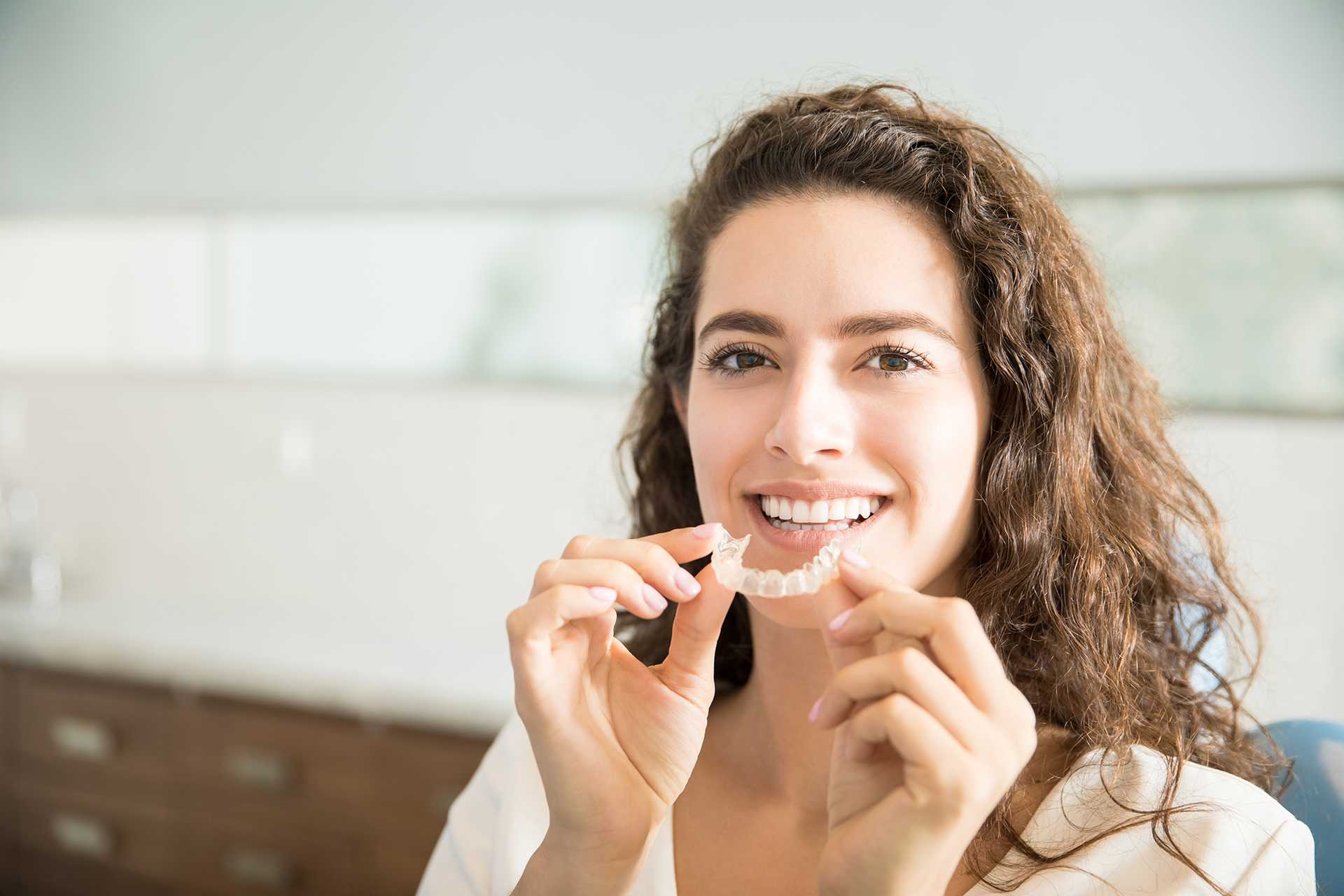 Invisalign for Adults has changed the way people view Orthodontics. Straightening your teeth shouldn't be a "now or never" scenario. Whether you're a teen or adult, it's always the right time to achieve a confident, beautiful smile. Although braces are a popular choice for all ages, Invisalign appeals to adults for many different reasons. Not only are there fewer appointments with this treatment option, but Invisalign allows you to straighten your teeth without anyone knowing!
Reasons Many Adults are Choosing Invisalign
1. Less Discomfort
The Invisalign aligners are soft and custom fit to your teeth. This means you will have less discomfort compared to wearing standard metal braces. One of the most common complaints of metal braces is the adjustment patients have to make to the new hardware in their mouth. Brackets and wires may cause temporary sores on the inner cheeks and gums while your mouth adjusts to the change.
2. Boosted Confidence
As your Invisalign treatment progresses, you will gradually see your teeth aligning and the smile you've always wanted start to form. This will provide you with an instant confidence boost! Even though you may only be halfway through your treatment with Jones Orthodontics, you'll begin to notice that you already stopped hiding your smile.
3. You Can Eat Whatever you Want!
Invisalign for adults is a very appealing treatment option when it comes to foods you can eat. Many people fear the embarrassment of food getting stuck in their braces – especially during a business meeting or professional luncheon. Invisalign makes eating a breeze because you don't have to worry about breaking a wire or bracket! Simply remove the trays before each meal, then brush immediately after before putting them back in. We stress to all of our Invisalign patients how important it is to remove aligners before eating/drinking anything other than water. Not only can the trays become damaged or stained, but sugars from other beverages can get trapped under the aligners causing decay to your already healthy teeth.
4. Convenience
As an adult, you may be extremely busy in your day to day life and looking for a convenient orthodontic treatment option that doesn't require a ton of appointments. The process of Invisalign is fairly simple. Each aligner given to you will be worn for a set period of time before you are able to move on to the next. Unlike braces, adjustments are not needed if you choose Invisalign. Dr. Jones will set a certain number of appointments to evaluate your progress and the switching of the trays will take places on your own time.
5. Affordable
At Jones Orthodontics, we want to make Invisalign for Adults an affordable option. We understand that not everyone can pay for their treatment in one lump sum, so we offer payment plans that can fit any monthly budget. We're happy to assist with filing all insurance paperwork and can figure monthly payments based on the balance remaining after the estimate is provided. Our goal is to make this process as seamless as possible for you!
6. Investing in Your Long Term Oral Health
It's never too late to have the smile you've always wanted. Invisalign has been helping adults for many years achieve their smile goals and drastically improve their overall dental health. At Jones Orthodontics, we are a top 1% Invisalign Provider, and have successfully treated teeth crowding, spacing, overbites, underbites, and open bites with this form of treatment.
While the average adult can successfully be treated with Invisalign, some severe cases of misaligned teeth or similar issues may require braces. The best way to determine whether or not you are a candidate for Invisalign, is to schedule a FREE consultation with our office.  Jones Orthodontics has convenient locations in Durham, Chapel Hill, and Hillsborough.